Research and Scholarship Support
Library
---
Scholarly communication can be defined as "the system through which research and other scholarly writings are created, evaluated for quality, disseminated to the scholarly community, and preserved for future use." — Association of Research Libraries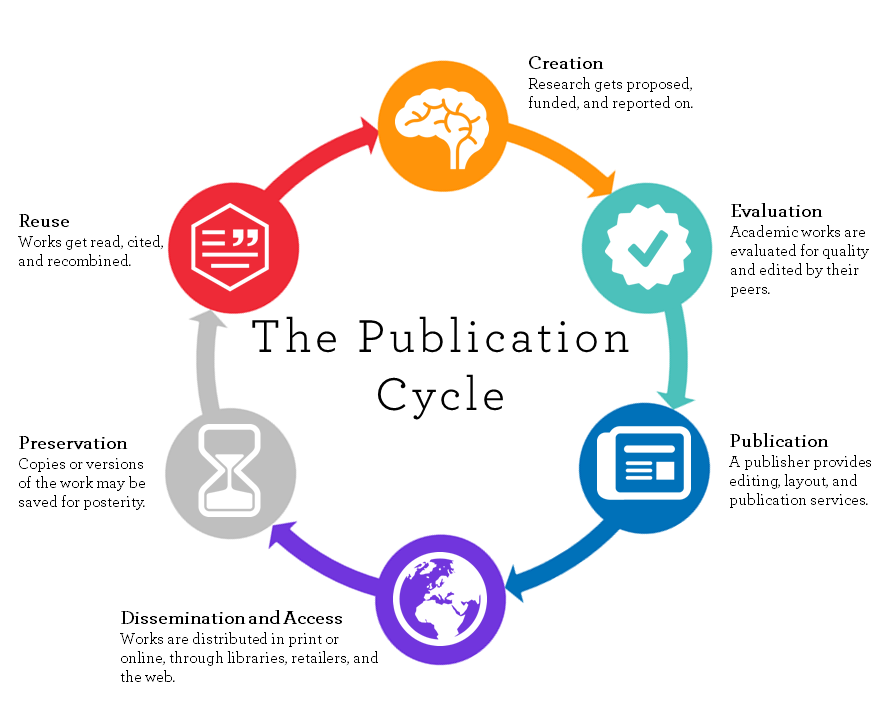 Faculty and students participate in the scholarly communications system as authors, editors, reviewers, and readers. The Library also participates in this process, not just by purchasing access to research and scholarship, but also by supporting every step of the process.
Built on the recognition that research is often publically funded, then purchased back at Universities with public funds, Open Access is an initiative that aims to make research results freely and widely available. The Library is committed to supporting Open Access models, not just as an end to double (and sometimes triple) paying for research, but also as a model of knowledge mobilization that encourages global public access to research results.
Creation
-          For funding opportunities, please visit the Research Office
-          Open Access Research Tools to help you find global open scholarship
-          General help with Research at the Library
Evaluation
-          Tips on avoiding Predatory Publishers
Publication
-          How to comply with the Tri-Agency Policy on Open Access
-          Understand Open Access models
-          Open Journals hosted by the UofW
Dissemination and Access
-          Self-archive with WinnSpace Institutional Repository - and increase the global reach of your research!
-          Use SHERPA/RoMEO to understand your author's rights
-          Track the impact of your research
Preservation
-          LOCKSS at the UofW
Reuse
-          Understand your Research Impact
-          Learn more about Copyright
To learn more about scholarly communication, contact Brianne Selman - Scholarly Communications and Copyright Librarian, John Dobson - Scholarly Communications Specialist, or one of the Subject Librarians in your area.
Content on this site is licensed under a Creative Commons Attribution 4.0 International license.