Indigenous Studies Spotlight
Mon. Jun. 15, 2020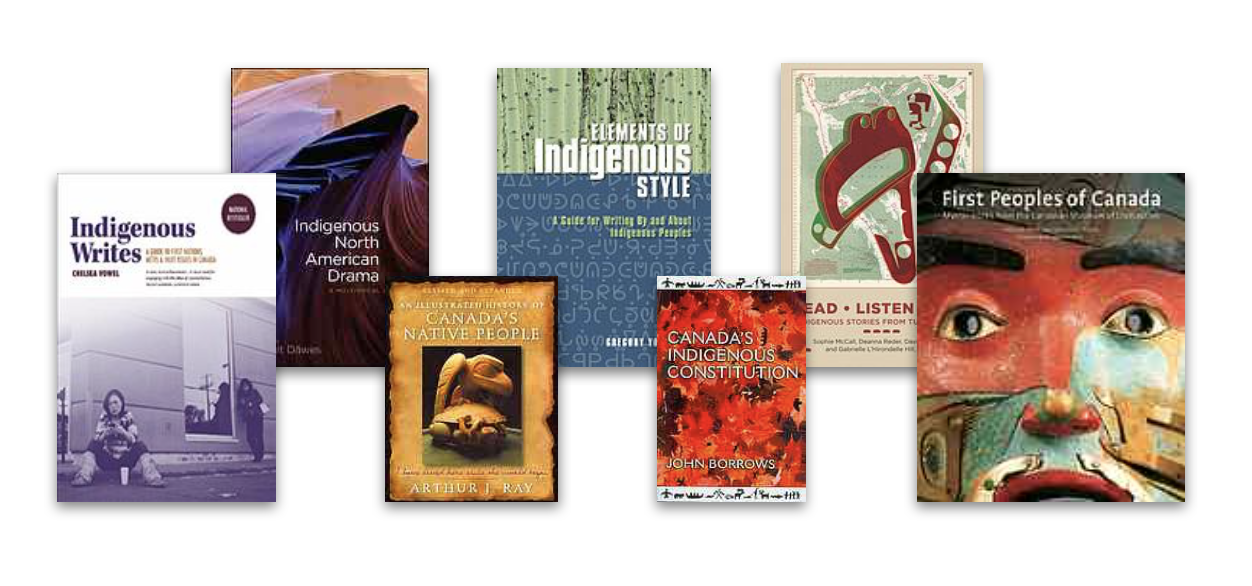 June is Indigenous History Month; a time when our book feature shelf would normally be filled with a range of Indigenous Studies research and literature. While it will be a long time before we are able to browse the stacks again, here are a few digital titles that are available from wherever you are.
You can easily browse more digital content by going to the Living Room Library and entering "Indigenous Studies." For help with performing research in this area, or guides on more specific subjects (such as Indigenous Languages, Residential Schools, or Metis Studies, for example) visit our Indigenous Studies Research Guides.

--

Indigenous writes : a guide to First Nations, Métis, and Inuit issues in Canada
"Chelsea Vowel initiates myriad conversations about the relationship between Indigenous peoples and Canada. An advocate for Indigenous worldviews, the author discusses the fundamental issues--the terminology of relationships; culture and identity; myth-busting; state violence; and land, learning, law and treaties--along with wider social beliefs about these issues."

I have lived here since the world began : an illustrated history of Canada's Native people
"Canada's Native people have inhabited this land since the Ice Age and were already accomplished traders, artisans, farmers and marine hunters when Europeans [arrived]." Historian Arthur J. Ray "charts the history of Canada's Native people from first contact to current land claims."

First Peoples of Canada: Masterworks from the Canadian Museum of Civilization
"This beautifully designed, full-colour book presents a collection of 150 archaeological and ethnographic objects produced by Canada's First Peoples - including some that are roughly 12,000 years old - that represent spectacular expressions of creativity and ingenuity."

Indigenous North American Drama : a multivocal history
"This collection traces the historical dimensions of Native North American drama through overviews of major developments, individual playwrights' perspectives, and in-depth critical analyses [while] also acknowledge[ing] the wide diversity of styles and perspectives that have helped shape contemporary Native North American theater itself."

Canada's Indigenous Constitution
"John Borrows explores legal traditions, the role of governments and courts, and the prospect of a multi-juridical legal culture, all with a view to understanding and improving legal processes in Canada. He discusses the place of individuals, families, and communities in recovering and extending the role of Indigenous law within both Indigenous communities and Canadian society more broadly."

Centering Anishinaabeg studies : understanding the world through stories
"This groundbreaking anthology features twenty-four contributors who utilize creative and critical approaches to propose that this people's stories carry dynamic answers to questions posed within Anishinaabeg communities, nations, and the world at large."

Read, listen, tell : Indigenous stories from Turtle Island
"This collection is a testament to Indigenous resilience and creativity. It shows that the ways in which we read, listen, and tell play key roles in how we establish relationships with one another, and how we might share knowledges across cultures, languages, and social spaces."

Elements of Indigenous style : a guide for writing by and about Indigenous peoples
"This guide contains: A historical overview of the portrayal of Indigenous peoples in literature; Common errors and how to avoid them when writing about Indigenous peoples; Guidance on working in a culturally sensitive way; A discussion of problematic and preferred terminology; Suggestions for editorial guidelines."