Scan on Demand
UWinnipeg students, staff, and faculty may request scanned excerpts of materials in the library's collection. Excerpts must meet Fair Dealing Guidelines and are sent as PDFs via email. Requests are filled within 1-2 days during Library operating hours.
How to Request
Find the item you want an excerpt from in the library's catalogue.
Confirm that the item is Available. Items with any other status cannot be scanned.
Complete the request form.  
Helpful Tips
Your library barcode is found on the front of your UWinnipeg ID card. If you have lost your card or don't have one yet, please contact circulation@uwinnipeg.ca for assistance. In order to verify your identity, you will need to use your UWinnipeg email address.
Item availability status, title, author, call number, and link can all be found on the main record:
Total number of pages can be found under Physical Description after clicking the item's title to open the record: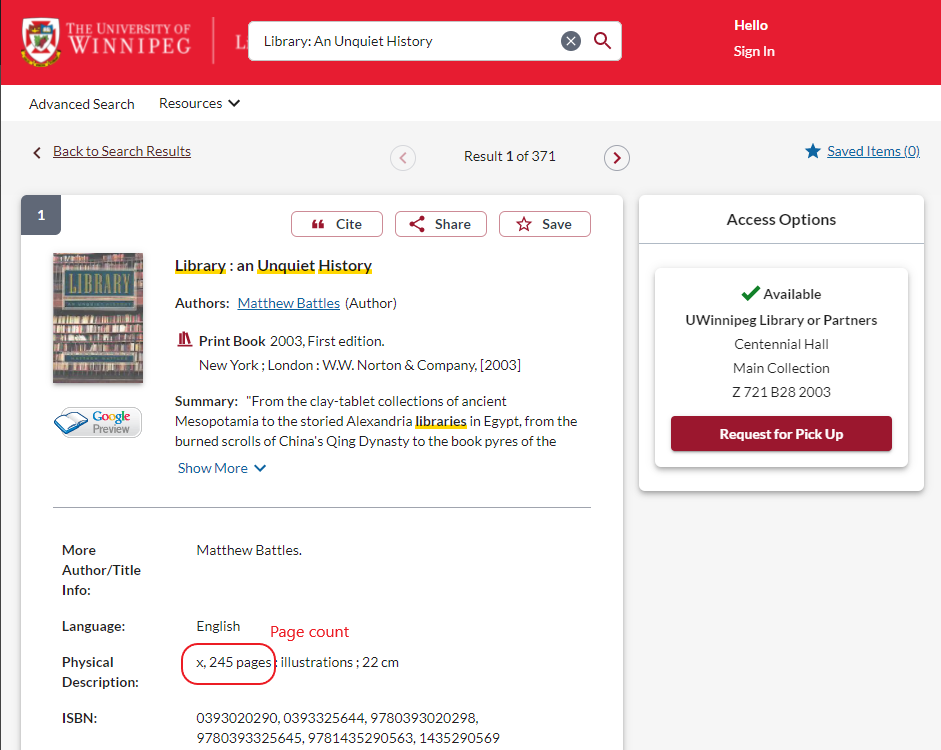 Fair Dealing
Under the The University of Winnipeg Fair Dealing Guidelines, patrons may only request excerpts for the purposes of research, private study, criticism, review, news reporting, education, satire, or parody. The amount of the excerpt may not exceed:
One journal article per issue
One chapter or 10% of a book
Please note that individuals cannot make multiple requests for the same source material if the total amount of the requests exceeds the fair dealing limitations.