Pickup Service & Returns
Library
---
The Library is offering a pickup service for faculty, staff, and students to retrieve books during the campus closure.
Patrons who wish to return materials can use the drop box at the main doors to Centennial Hall or send items in by mail. Please see Returns for more details.
Who Can Request Items
Pickup service is available to current UWinnipeg faculty, staff, and students. 
What Can Be Requested
All normally circulating items from the UWinnipeg collection except for microforms can be requested. Most print books, journals, and DVDs are part of the circulating collection. Non-circulating items will show "(Library Use Only)" as part of their location. If you require access to a non-circulating item, please contact circulation@uwinnipeg.ca. Exceptions may be made for faculty in certain cases.
Items from the Institute of Urban Studies may be requested but have an increased turnaround time of 1-2 weeks.
To borrow items from the Centre for Christian Studies, please contact Scott Douglas at sdouglas@ccsonline.ca.
How to Request Items
Patrons may request up to 10 items at a time. This limit does not include items you have already borrowed. Follow the below steps for each item you would like to pick up.
Look up the material you would like to borrow in the Library's catalogue and click on the item's title to open up its record. Under the Check Availability heading you will see a Request for Pickup button if the item is available to borrow. Items that are already checked out cannot be requested. If you would like to be notified when an item is returned, please contact circulation@uwinnipeg.ca.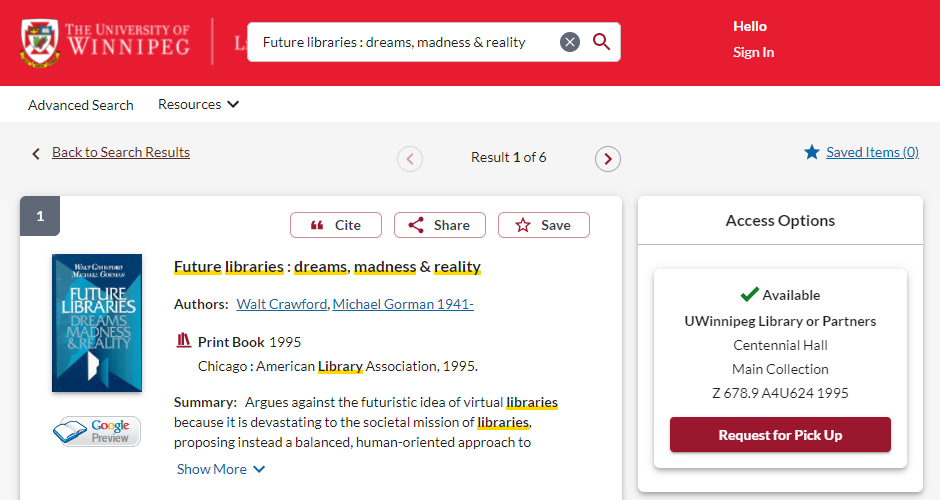 A blue bar will appear below the Request for Pickup button if an item has already been requested. If you place a hold on a requested item, you will be contacted and offered a choice to cancel your hold or maintain it and receive notification when the item is returned. Your hold will not affect the item's due date nor will it prevent renewals, so we are unable to guarantee when the item will become available.
To request the item, click Request for Pickup and select Current Students, Faculty & Staff from the new screen that opens.

Log in with your Webadvisor username and password.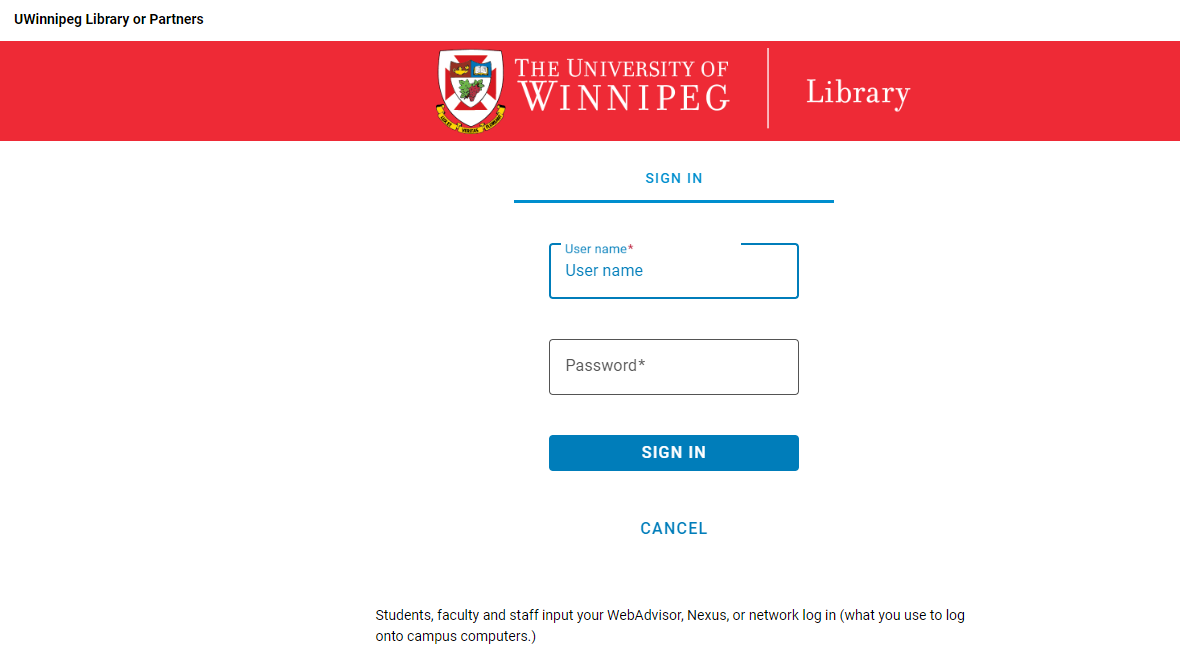 Under Pick Up Options, select your pickup location. If choosing "Accessible Pickup", please use the notes field to indicate any accessibility accommodations for picking up your holds, such as requiring a locker at a certain height, or an in person alternative. Please note that all pickups must occur at Centennial Hall. In person alternatives are appointment based and only available during regular business hours.
Once you've completed the form, click Submit.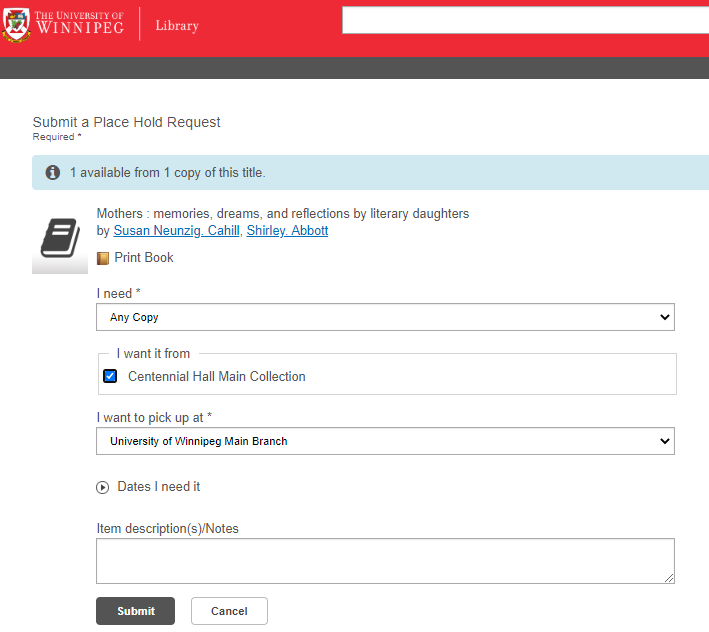 If your request was successful, you will see a confirmation page.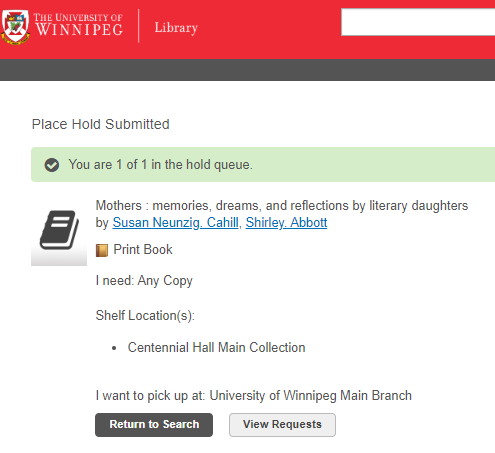 If you have exceeded your request limit, are not eligible to place requests, or try to request an unavailable item, you will see the failed request page. Please contact circulation@uwinnipeg.ca if you have questions about why your request was not successfully submitted.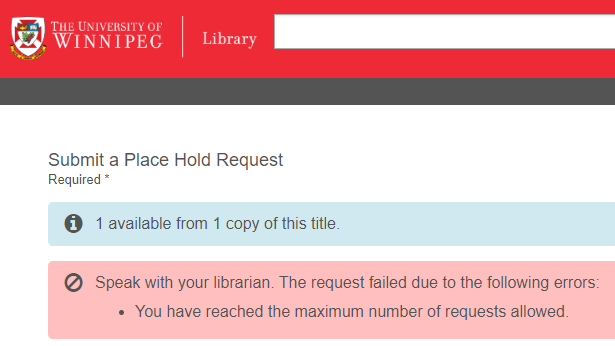 After you Submit a Request
Staff will pull your requested items on the following business day and place them in the Smart Locker for pickup. A notification will be sent to your email address on file (usually your UWinnipeg email) indicating that your holds are ready for pickup. Please wait until you receive this notification, as your items will not be ready until then. Once the email is sent, your items will be held for one week. If not retrieved by the end of the seventh day, the hold will expire, and the items will either go to the next requestor in line or will be returned to the shelves.
How to Pick Up Items
Once you have received confirmation that your items are ready to pick up, you can retrieve them from the Smart Locker on the main floor of Centennial Hall. You will need either your library card or your barcode number; if you have neither, contact circulation@uwinnipeg.ca using your UWinnipeg email address and we will provide your barcode (download the tutorial).
Special collection items, such as Children's Picture Books and reference materials, cannot be placed in the Smart Locker. Library staff will contact you to arrange an alternative on-campus pickup.
All borrowers are expected to adhere to the safety guidelines outlined below as well as campus protocols, including wearing a mask when on site. Please use the available hand sanitizer before touching the locker, and use the  disinfecting wipes on any surfaces you touched when you are done. If you require assistance with the Smart Locker, library staff are available Monday - Friday, 9:00 AM - 4:30 PM by calling 204-786-9808.
Accessibility Options
If you need your items placed in a locker at a certain height, please choose "Centennial Hall Accessible Pickup" as your pickup option and use the notes field to let us know which row(s) of lockers you would like us to place your items in:
TOP ROW: 59 inches off the ground
ROW 2: 54 inches off the ground
ROW 3: 49 inches off the ground
ROW 4: 44 inches off the ground
ROW 5: 39 inches off the ground
ROW 6: 34 inches off the ground
ROW 7: 29 inches off the ground
ROW 8: 24 inches off the ground
ROW 9: 19 inches off the ground
BOTTOM ROW: 14 inches off the ground
If you have any other accessibility needs, please use the notes field to request your accommodation, and library staff will see that your request is fulfilled. If alternate arrangements are necessary, staff will follow up with you directly.
Hours
The Smart Locker is accessible 8:00 AM - 6:00 PM, 7 days a week.
Note that staff are only available to provide assistance or schedule special pickups Monday - Friday, 9:00 AM - 4:30 PM. We recommend picking up during these hours if possible, in case any problems or questions arise. 
Wait Times
The current wait time is approximately two business days. Items requested by 11:00PM will be pulled the following business day and will be ready for pickup the day after that. Please note that this wait time may increase due to high levels of demand. We will update this page regularly as circumstances change.
If a requested item cannot be found, library staff will contact you to let you know that we are still looking for it. The hold will be filled once the item is found, or we will contact you and cancel the hold if the item is not found after multiple searches.
Due Dates, Fines, & Recalls
All materials will be due on August 31, 2021. Overdue fines and recalls will be suspended for the duration of the campus closure. Replacement fees will still be charged for lost or damaged books. 
Returns
Patrons who wish to bring back library materials can return items through the library drop box at the main entrance to Centennial Hall. The drop box is located on the wall just inside the doors labeled "Exit Here".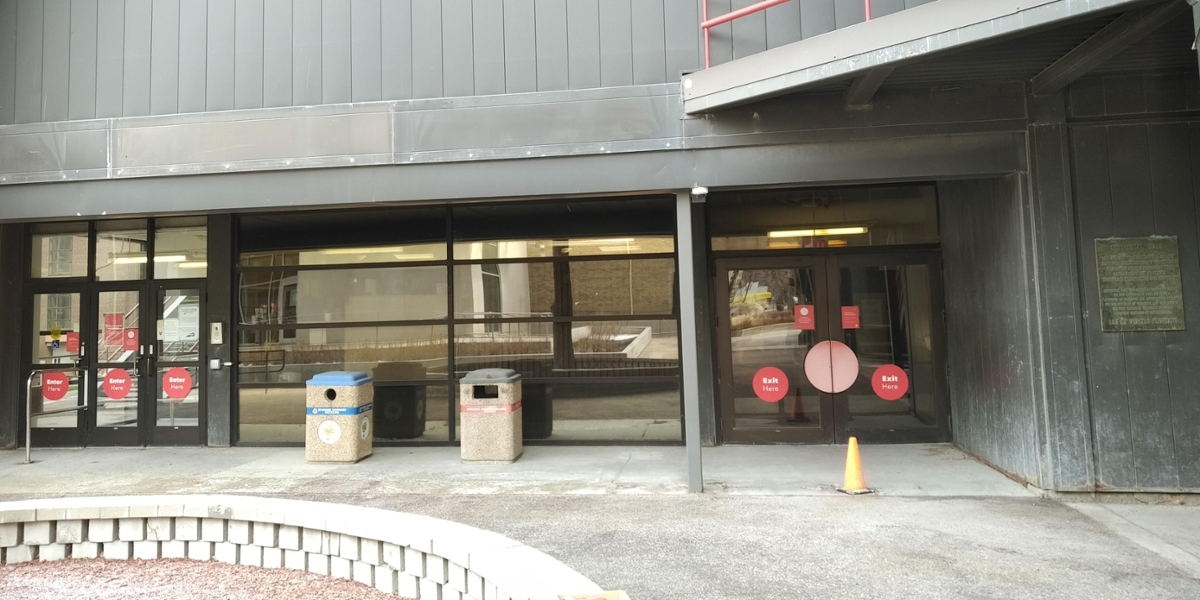 The drop box is accessible from 8:00 AM - 6:00 PM, 7 days a week.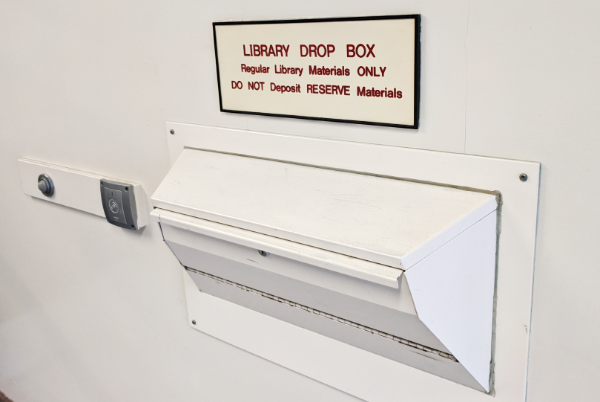 Materials can also be returned by mail, addressed to:
Circulation Department - Returns
UWinnipeg Library
4th Floor, Centennial Hall
515 Portage Avenue
Winnipeg, MB R3B 2E9


All items will be quarantined for 3 days upon receipt; late fees will not apply during the quarantine period. 
Safety Precautions
All returned library materials will be quarantined for 3 days before re-entering circulation. On-site library staff wear masks at all times and wash their hands frequently, including before and after handling materials. Per campus guidelines, patrons are required to wear a mask when picking up materials. Individuals who do not adhere to campus safety guidelines, including maintaining social distance when interacting with staff, may be refused service.
If you are feeling ill, have tested positive for COVID-19, or have reason to believe you've been exposed to COVID-19, please do not come in to pick up your materials. Contact circulation@uwinnipeg.ca to make alternate arrangements.
Contact
204.786.9808 (voicemail only)