Borrowing, Renewing, and Requesting
NOTICE: New ID cards may not work with the Smart Locker. Please contact Circulation to ensure your account has been updated before you pick up your items.
On this page:
---
Borrowing 
Books and other materials can be checked out at the Circulation Desk next to the library entrance. All patrons must provide their University of Winnipeg ID card when borrowing materials. If you have lost your card, contact Student Central for a replacement and then visit the library to update your account. 
Patrons who are not current UWinnipeg students, staff, or faculty must provide their library barcode when borrowing materials and should report lost barcodes directly to the library. For more information on obtaining a barcode, see our guest services page.
Please note that you are responsible for all materials checked out to your account, including items you borrow on behalf of someone else. Contact us if you have lost your card or if a returned item is not cleared from your account within three business days. 
Loan Periods
Loan periods depend on your patron type and what kind of material you are borrowing.
 

Faculty, Staff, & Grad Students

Undergrad & Collegiate Students

PACE Students

NIDSC & IB Students

External Borrowers

Books

30 days

30 days

Periodicals

7 days

7 days

7 days

N/A

N/A

Multimedia

7 days

3 days

3 days

4 hours

N/A

Course Reserves

2 hours, 4 hours, 1 day, or 3 days

2 hours, 4 hours, 1 day, or 3 days

2 hours, 4 hours, 1 day, or 3 days

N/A

N/A

Special Collections

Variable
Semester-Based Due Dates
Most books in the library's collection have a fixed due date based on when they are borrowed. You can renew an item in the two weeks leading up to the due date if no one else has requested it.
Items borrowed between August 1 – November 30 are due December 15
Items borrowed between December 1 – March 31 are due April 15
Items borrowed between April 1 – July 31 are due August 15
Patron Types
Faculty, Staff, & Grad Students include regular academic staff, contract academic staff, university employees, Collegiate instructors and employees, adjunct instructors, professors emeriti, senior scholars, visiting academics/researchers, post-docs, UWinnipeg graduate students, and Joint Masters Program graduate students.
Undergraduate & Collegiate Students include UWinnipeg undergraduate students, Collegiate students, ELP students, and Psych Nursing students.
PACE Students include students enrolled in a PACE program.
NIDSC & IB Students are students enrolled in either the Northern Indigenous Studies Cohort or a high school IB program affiliated with the UWinnipeg Library.
External Borrowers include alumni, retirees, special borrowers, reciprocal borrowers, Accelerated Program students, and any other patron type that is not listed above.
Renewals
You can extend your loan period by renewing your materials. Most library materials can be renewed up to six times, as long as they have not been requested or recalled. Materials must be renewed before the due date; they cannot be renewed once they become overdue. Items with a fixed due date can only be renewed in the two week period before they are due.
To renew your materials, log in to your library account, check the box beside the book(s) you would like to renew, and click Renew Items. You can also request a renewal by contacting the circulation desk at 204.786.9808 or circulation@uwinnipeg.ca.
Recalls
If someone else has borrowed the book you need, you can recall it by clicking the Recall Item button in the library catalogue. The patron who has the item will be given 7 days to return it to the library. Once returned, you will be notified by email that you have one week to pick up your item from the Library's smart lockers.
Recall notifications are sent to your email address on file (usually your UWinnipeg email address). Once a recall notification has been sent, your due date will change. If you do not return the item by the new due date, you will be charged a late fee. Watch your email closely, as library items can be recalled at any time.
Requests
If the material you want is checked in, you can request the item for pickup through the Library's smart lockers. See the pickup service page for details. Requests take approximately one business day to process and are held for one week.
Patrons who are unable to access campus for pickup should contact the Circulation department at ciruclation@uwinnipeg.ca or 204.786.9808 to make alternate arrangements.
Returns
UWinnipeg Library materials can be returned through any one of three drop-off slots:
Outside the entrance to the Library, on the 4th floor of Centennial Hall.
At the Circulation Desk when the Library is open.
The east doors of the main entrance to Centennial Hall: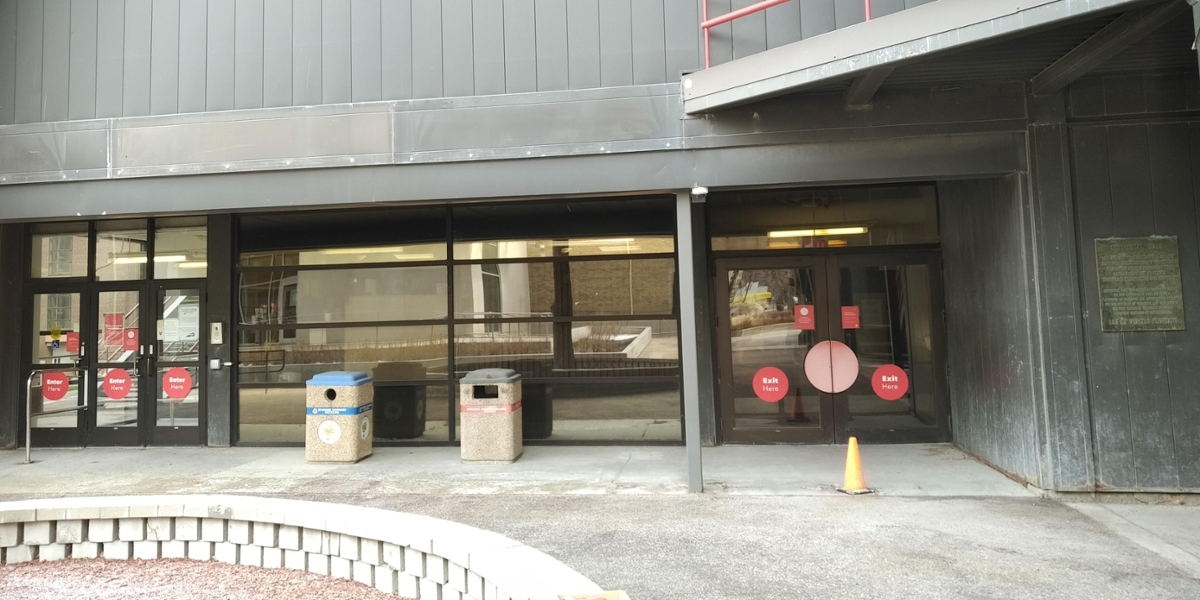 The drop box can be accessed whenever campus is open. During the holiday break, you will need to provide your campus ID to security via video intercom at the Centennial Hall entrance.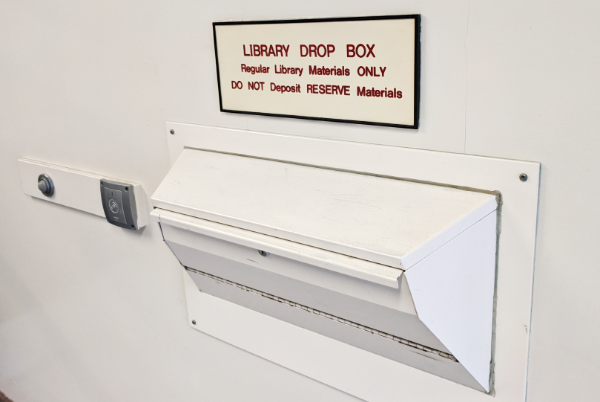 To return materials by mail, please pack them carefully to avoid damage in transit and address them to:
Circulation Department - Returns
UWinnipeg Library
4th Floor, Centennial Hall
515 Portage Avenue
Winnipeg, MB R3B 2E9
Interlibrary loan materials must be returned to the Interlibrary Loan return box, currently located next to the Reference section on the Library's main floor.
Print reserves should be returned to the blue box on top of the Circulation Desk (just above the return slots). 
Overdue Items
Effective September 1, 2021, the UWinnipeg Library will no longer charge late fines on most overdue items. Only course reserves and recalls will be subject to late fines, as these are high demand items. Patrons who do not return or renew their books on time will be blocked from borrowing, renewing, or requesting additional material until overdue items are returned. Replacement fees will be charged for unreturned items.
Late Fines
Recalled items are fined $1.25 per day to a maximum of $35.00 per item.
Hourly course reserves are fined $0.50 per hour to a maximum of $25.00 per item.
Daily course reserves are fined $5.00 per day to a maximum of $25.00 per item.
Blocked Accounts
Blocked accounts cannot borrow, request, or renew library materials. Accounts will be blocked if:
More than 10 items are overdue
An item is more than 28 days overdue
Outstanding fines and fees exceed $25.00
The account has expired
To remove the block on your account, please return all overdue items and pay any outstanding fines and fees. If your account has expired, contact us to renew it.
UWinnipeg students with blocked accounts will also have a hold placed on their University account. This hold will prevent you from registering for classes, acquiring transcripts, and applying for graduation. To lift the hold, please contact us and we will help resolve the situation as quickly as possible.
Replacement Fees
Replacement and processing fees will be charged for items that are:
Lost
Damaged
Long overdue (more than 28 days overdue)
Fees charged for long overdue items will be waived when the item is returned. Long overdue items that are not returned by the deadline will be marked as lost. Replacement fees for lost and damaged items are non-refundable.
Return Deadlines
If an item becomes long overdue (more than 28 days overdue), the Library will assess a replacement fee and issue a new due date. Items returned by the new date will have the replacement fee waived or refunded. Items not returned by the new due date will be considered lost and the replacement fee will become non-refundable.
Items that become long overdue between August 15th - December 14th must be returned by February 1st.
Items that become long overdue between December 15th - April 14th must be returned by June 1st.
Items that become long overdue between April 15th - August 14th must be returned by October 1st.
Paying Fines & Fees
Fines and fees can be paid by cash, cheque, debit, or credit (Visa or Mastercard). All forms of payment are accepted in person at the Circulation Desk. In addition, credit card payments can be taken over the phone. Partial payments are accepted, but account blocks are not lifted until the balance is paid in full or a payment plan is established.
Payment Plan
Patrons who have a blocked library account may establish a payment plan to repay their outstanding balance over a period of time. Suspensions and holds are temporarily lifted for the duration of the payment plan and reinstated if the payment plan is not completed on time. Payment plans must be established in person at the Circulation desk.
Appeals
Patrons who wish to appeal their fines may complete the online appeal form (paper copies available at the Circulation desk on request). The Circulation Supervisor will evaluate the request and waive or reduce fines if the appeal is made on reasonable grounds. The following reasons will not be accepted for appeal:
Not knowing the borrowing policies
Forgetting to return or renew items on time
Failure to receive courtesy reminder notices
Non-emergency travel outside the city
Loaning the item(s) to another individual
Disagreeing with the principle of fining or the rate of fines
The Circulation Supervisor's decision is final. Fines and replacement fees for interlibrary loan items are levied by the lending institution and cannot be appealed.
Notifications
Notifications regarding your library account, such as checkout receipts and overdue notices, will be sent from no-reply@oclc.org to your email address on file (usually your UWinnipeg email address). If you have any questions or concerns regarding a library notification, please forward the notification along with your comments to circulation@uwinnipeg.ca. Do not reply directly to the notification, as the address from which it is sent is not monitored by UWinnipeg Library staff. Please note that these are courtesy notifications; patrons are responsible for returning material on time and paying any fees accrued regardless of whether they receive a courtesy notice.
Contact
In Person: Staff are available during Library hours of operation.
Email: circulation@uwinnipeg.ca
Phone: 204.786.9808
Other Pages of Interest
For books from other libraries, see Interlibrary Loan.
To request a title be added to the collection, please Suggest a Purchase or contact your Subject Librarian.