Pickup Service
Library
---
Though the facility will remain closed throughout the remainder of 2020, the Library is offering a pickup service for faculty, staff, and students to retrieve books during the fall term. 
Who Can Request Items
Pickup service is available to current UWinnipeg faculty, staff, and students. 
What Can Be Requested
All normally circulating items except for microforms can be requested. Most print books, journals, and DVDs are part of the circulating collection. Non-circulating items will show "(Library Use Only)" as part of their location. If you require access to a non-circulating item, please contact circulation@uwinnipeg.ca. Exceptions may be made for faculty in certain cases.
How to Request Items
Undergraduate, Collegiate, PACE, and ELP students may request up to 5 items at a time. Faculty, staff, and grad students may request up to 10 items at a time. Follow the below steps for each item you would like to pick up.
Look up the material you would like to borrow in the Library's catalogue and click on the item's title to open up its record. Under the Check Availability heading you will see a Request for Pickup button if the item is available to borrow. Items that are already checked out cannot be requested. If you would like to be notified when an item is returned, please contact circulation@uwinnipeg.ca.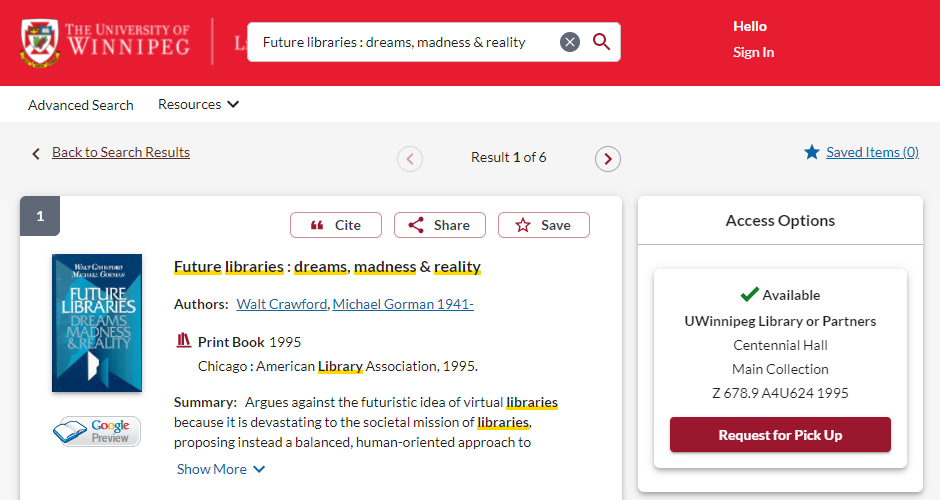 A blue bar will appear below the Request for Pickup button if an item has already been requested. If you place a hold on a requested item, you will be contacted and offered a choice to cancel your hold or maintain it and receive notification when the item is returned. Your hold will not affect the item's due date nor will it prevent renewals, so we are unable to guarantee when the item will become available.
To request the item, click Request for Pickup and select Current Students, Faculty & Staff from the new screen that opens.

Log in with your Webadvisor username and password.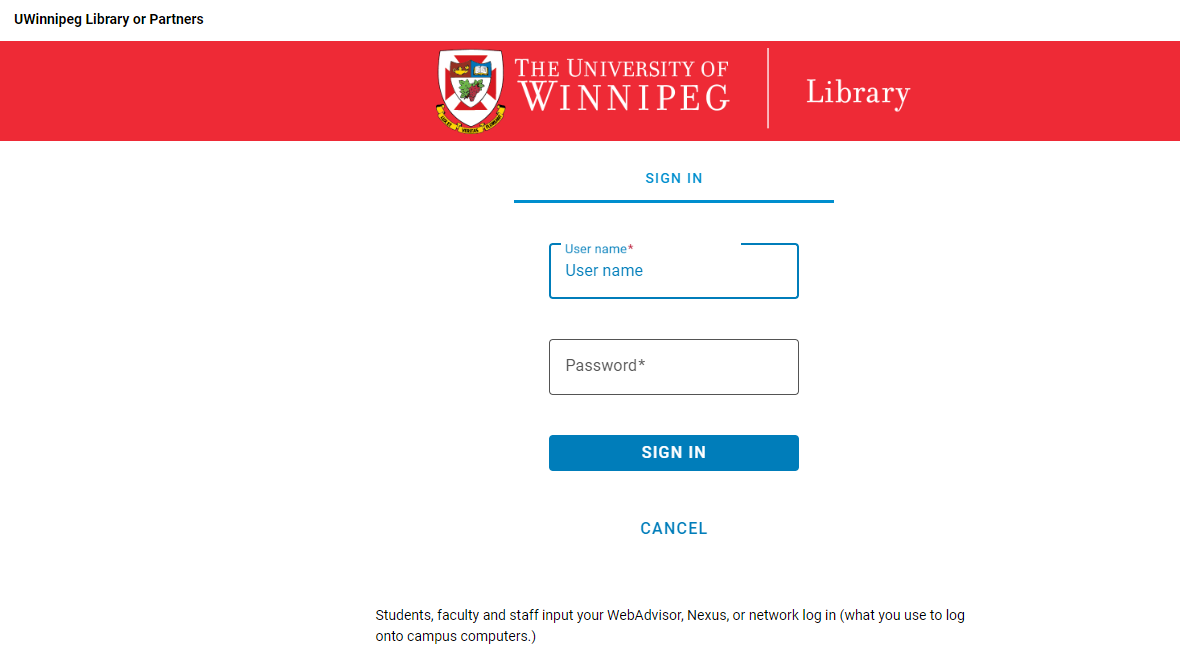 Click Submit on the form.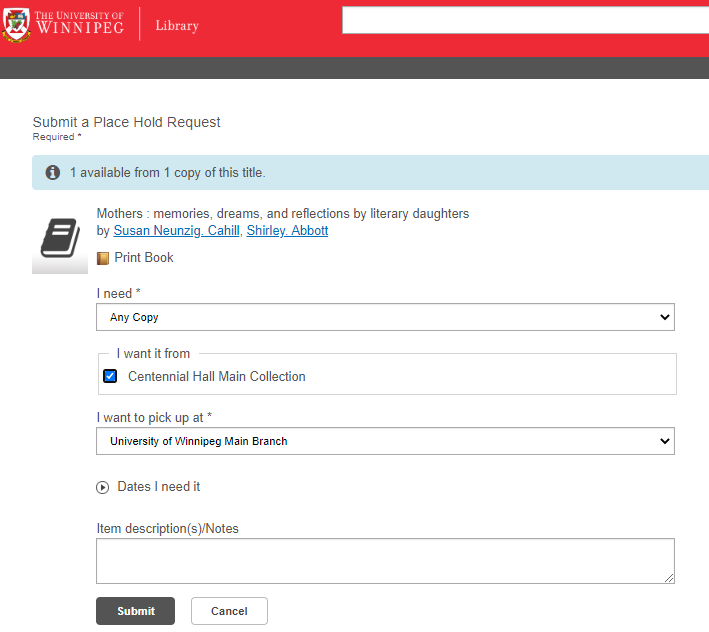 If your request was successful, you will see a confirmation page.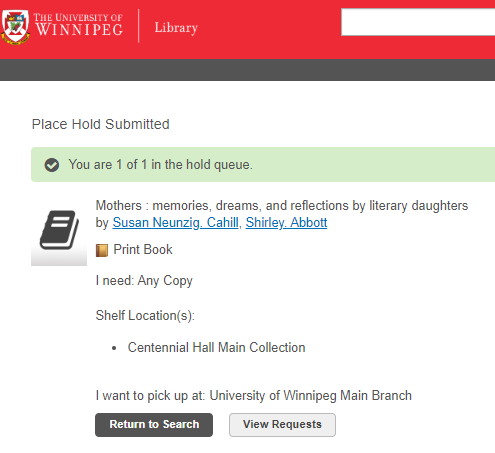 If you have exceeded your request limit, are not eligible to place requests, or try to request an unavailable item, you will see the failed request page. Please contact circulation@uwinnipeg.ca if you have questions about why your request was not successfully submitted.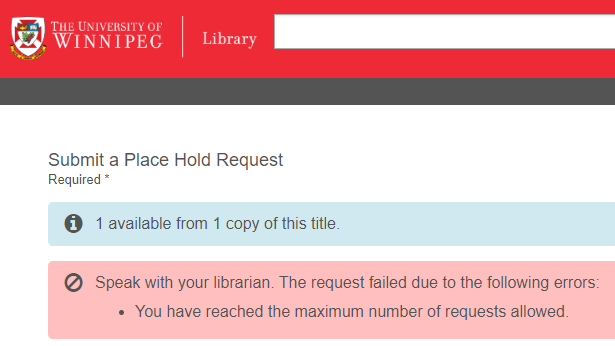 After you Submit a Request
Staff will pull your requested items on the following business day and check them out to your account. Two notifications will be sent to your email address on file (usually your UWinnipeg email): one indicating that your holds are ready for pickup and one indicating the books have been checked out to your account. Please wait until you receive these notifications, as your items will not be ready until then. Once the email is sent, your items will be held for three business days (Monday-Thursday). If not retrieved by the end of the third day, the hold will be cancelled, and the items will either go to the next requestor in line or will be returned to the shelves.
How to Pick Up Items
Once you have received confirmation that your items are ready to pick up, come to the main floor of Centennial Hall during one of the designated pickup times. All borrowers are expected to adhere to the safety guidelines outlined below as well as campus protocols. A library staff member will be stationed at a table with Plexiglass shielding on the west side of the escalators (the window side). Please wait at the marked spot six feet (two metres) away from the table, allowing for at least six feet / two metres between you and anyone else waiting in line. When you are at the front of the line, provide the staff member with your name. The staff member will retrieve your items and push them through the slot in the Plexiglass for you to pick up. All of your items have already been checked out to your account, so you may leave once you have retrieved them.
If you would like to send someone else to pick up your items, please provide their name to circulation@uwinnipeg.ca so we can add them as an approved recipient. We will not release items to anyone other than the account holder without written permission.
Pickup Times
Monday – Thursday
10:00 – 10:30 AM
2:00 – 2:30 PM
Wait Times
The current wait time is approximately two business days (Monday-Thursday). Items requested by 11:00PM will be pulled the following business day and will be ready for pickup the day after that. Please note that this wait time may increase due to high levels of demand. We will update this page regularly as circumstances change.
If a requested item cannot be found, library staff will contact you to let you know that we are still looking for it. The hold will be filled once the item is found, or we will contact you and cancel the hold if the item is not found after multiple searches.
Due Dates, Returns, Fines, & Recalls
All materials will be due on December 18, 2020. Items not returned by that date will be automatically renewed through April 2021. If you wish to return materials, you can use the return slot at the Centennial Hall main doors on the east side of the Security office. Overdue fines and recalls will be suspended for the duration of 2020.
Safety Precautions
All returned library materials will be quarantined for 7 days before re-entering circulation. Library staff will wear gloves and masks when handling materials and providing pickup services. Patrons are asked to wear a mask when coming to pick up materials to help ensure the safety of library staff and other patrons. Individuals who do not adhere to social distancing guidelines may be refused service.
If you are feeling ill or have reason to believe you've been exposed to COVID-19, please do not come in to pick up your materials. Contact circulation@uwinnipeg.ca to make alternate arrangements.
Contact
204.786.9808 (voicemail only)