Finding Scholarly Sources
Your professors will generally ask that you use scholarly sources in your research assignments. Sometimes this means using articles from peer-reviewed journals, other times it will be be your responsibility to decide if the information is coming from reputable sources.
---
Scholarly vs. Popular Sources
The majority of the world's information is written for the general public. In fact, most websites, blogs, or Twitter accounts (and even some magazine articles and books) are written by fairly ordinary people to be read by other ordinary people. It's easy to publish your writing through these avenues and there are very few built-in processes to ensure that the information is correct. This doesn't mean that these sources can't contain contain good, factual information. It just means that there is potentially greater room for misinformation from popular sources.
Scholarly sources are written by and for academics and are published by universities or scholarly associations. Perhaps most importantly, they are generally peer-reviewed (see below for a detailed description).
Your decision to use a source for your paper will depend on how credible you think it is. If you find a source that is not peer-reviewed (or even if it is), you should evaluate it on a basic criteria of scholarly value.
Author: Who wrote it? What are their credentials or background? Why is their view important? Do they have any biases that might skew their viewpoint?
Audience: Who is it written for? Does the source use specialized vocabulary?
Documentation: Does the author use other sources? If so, are they listed in a Reference List or Works Cited? Are these sources scholarly?
Publisher: Who published this information? Are they a College/University or scholarly association? Do they have any biases that might skew what they decide to publish?
If you're not sure about one of your sources, ask your professor. They will be able to provide advice about what level of scholarliness you should look for.
---
Finding Peer-reviewed Articles
Some journals require that the articles they publish be peer-reviewed. This means that before the articles appear in the journal, they are reviewed by a panel of experts in the field of study. This panel is tasked with ensuring the article is of good academic quality.
While individual journals may vary, here is a basic summary of the peer-review process. 
Author submits article to journal.
Editor conducts initial review.
Editor contacts potential peer-reviewers.
Reviewers conduct detailed review.
Reviewers submit review and recommendation.
Journal accepts or rejects article for publication, or accepts with suggested revisions.
You can limit your search to peer-reviewed articles in most library databases.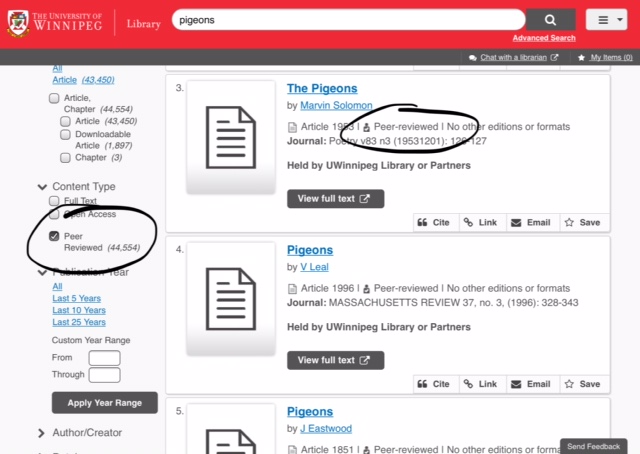 ---
Verifying Peer-review
You can verify that a journal uses the peer-review process using the Ulrich's Database.
1) Go to the Ulrich's Web Database (or browse there in the A-Z Databases List).
2) Search for the title of the journal.
3) Look for the referee's jersey icon. This means the journal is peer-reviewed.

It's important to note that not all the articles in a peer-reviewed journal will necessarily be peer-reviewed. Here are some examples of content that is not usually peer-reviewed, even when it's published in a peer-reviewed journal.
Letters to the editor
News items or communications
Editorials or opinion pieces
Book Reviews
If you require any assistance, feel free to contact us.
---